How We Met - Ellen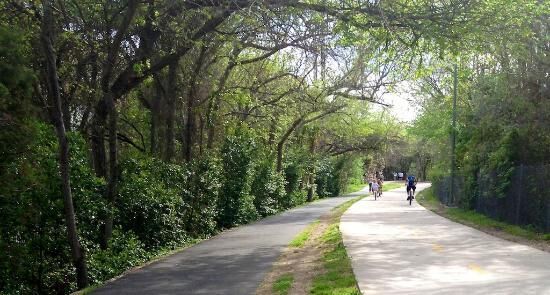 We met during medical school when I was doing a radiology elective and he was a visiting med student. The first impression of him was terrible. Quite arrogant and boastful. Somehow we became facebook friends and started chatting, then eventually met up in Dallas during the holidays. We hung out as friends from Nov -May and he was not as bad as I thought.
I was a big runner and the joke was that he had to run 8 miles with me before I would officially date him. He did it. We ran the Katy Trail plus some to equal 8 miles and the rest is history.
Long distance was tough, but we made it at the end.
How We Met - David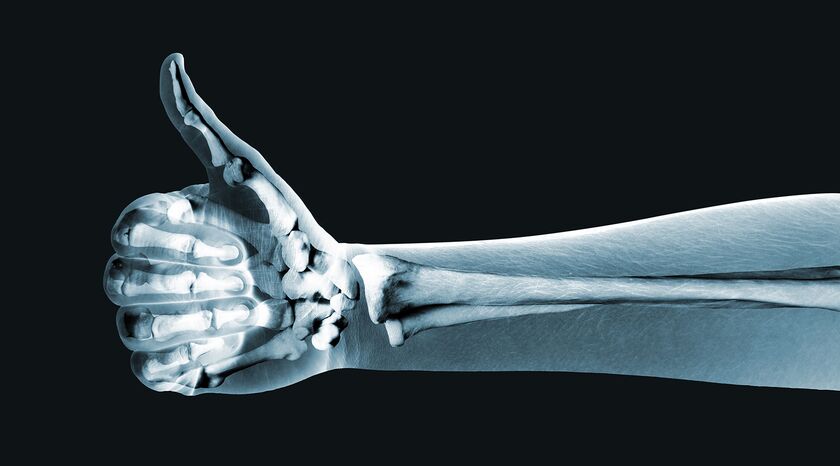 During my fourth year of med school, I switched specialties from orthopedic surgery to radiology. I had to scramble to change up my rotations and get some radiology rotations lined up. This was how I ended up at Scott & White Hospital in Temple, TX.
A few days into my rotation, I was ran into this girl in the musculoskeletal radiology department. She was pretty hot. On this day, the reading room was quite cold, and I noticed that this girl looked uncomfortable and, more importantly, cold. Me, being the gentlemanly type, decided to give her my white coat. She probably thought I was a super weird guy but I thought I was being a gentleman.
We never saw each other while I was in Temple but kept in touch, and we made plans to hang out when we were both back for holidays or other rotations. On our first attempt at hanging out, she thought it'd be a good idea to run White Rock Lake. Now, this is 9 miles all the way around. To this point, I had barely run 2 miles at any one point in time. Being the typical guy, I said to myself, "Dude. She's really pretty and cool. You can't let this one walk away. Just go run. You'll figure it out or die trying." Well, Mother Nature was smiling on me that day because on the morning we were supposed to run, there were thunderstorms the entire day.

...and so begins our journey.
The Proposal - Ellen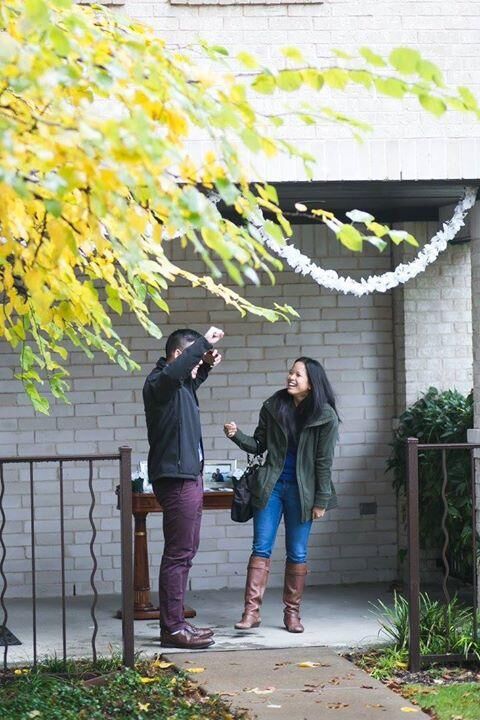 On Thanksgiving Day, I was hosting the family Thanksgiving dinner and quite stressed with the preparation. At the end of the night, David asked if I was still interested in seeing his best friend, Mike's new baby the following day. My friends from out-of-town were in and I wanted to grab lunch with them before they left. Therefore, my response was "no, I wanted to hang out with my friends. Mike lives down the street from me, I can visit the baby another time."
David got annoyed that I did not want to go meet the new baby, so finally I said, "okay, fine I'll go since it's such a big deal."
Little did I know he had something planned for that day.
On Friday, Nov 27th, 2015, Karen and I had plans to just stop by North Park in the morning and then go the gym. We left the house without any makeup to the mall. As soon as we get there, I get a paged and had to go into work to see a patient. I was thinking about just seeing the patient later, but Karen convinced me to go ahead and take care of things then. So I left her at the mall and went into work.
After work, I drove straight home to pick David up because I did not want to be late since he made such a big fuss about getting there on time, since the baby needs a nap by noon. We showed up to Mike's place, walked up to the front door and the entrance way was decorated with a table and white rose petals. Boy, was I confused...I was thinking was this decoration left over from a baby shower? Strange that our pictures were on the table. But then it made sense, he proposed, I think my response was "I guess" and then "ok yes." He had a photographer hiding in the bushes to capture the moment. His friends greeted us. We did eventually meet the new baby.

Afterwards, I was planning to meet my friends for lunch. David decided he wanted to take pictures next to the Christmas tree in Uptown, followed by Starbucks, and finally gave me a detour and ended up in front of Sushi Zushi. I was definitely confused because I was meeting friends up for pizza and he was making us late. He opened the door to the restaurant and we walked into the back and both of our families and my friends were there. Apparently, everyone was in on it and it all took me by surprise.
Good job David. Very memorable.
The Proposal - David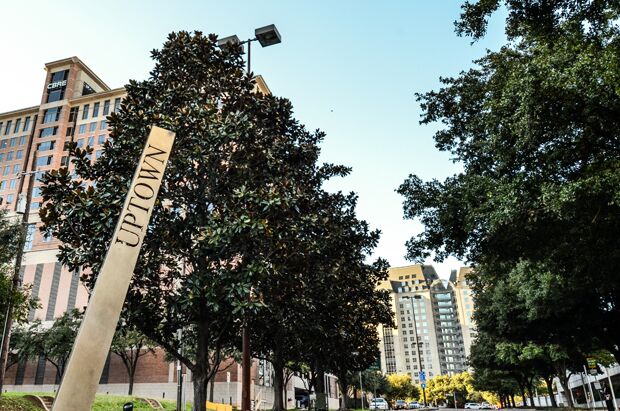 Before we begin this story, you have to understand that two of the most important things in both my and Ellen's lives are family and friends, her more so than me. So I definitely wanted to include Ellen's family and friends in the proposal. She's also the type of person that doesn't need/want big public displays of affection. Additionally, leading up to the proposal, she was showing me all these online videos of guys doing a flashmob at Disney World or doing an intricate and incredibly complex sequence of events to propose. So to summarize, my proposal had to: 1) be unique, not like those all those online videos but 2) still retain that level of OH MY GOD!, and 3) include our family and friends without being a public display. I had my work cut out for me.
My thoughts were to do the proposal part just us, that way it's intimate and not a public display. During the first few months of courting (where I thought I was getting somewhere with her and she kept call us "just friends"), we spent a lot of time at the townhouse I lived in during fourth year of med school in Uptown Dallas. So after mulling over the idea for a while, I chose the townhouse as the proposal spot. Oh and my best friend still lived there and can set it up!
The night before the proposal, I'm texting my friend Mike and his wife to get everything set up. The plan was to go see Mike, his wife, and their new baby on the day after Thanksgiving and use that as an excuse to go to Uptown. She did not like me forcing her to go hang out with my friends and their baby because she had her close friends in town for only the days of Thanksgiving and the day after and would rather spend time with them. So I did what any loving husband would do and guilt-tripped her into going with me. The next day, we meet up at her apartment to go to hang out with Mike. She's already not happy because she had to go into work briefly and hadn't put on any makeup...
We arrive at the townhouse a little earlier than planned. Mike is still finishing the set up and the photographer is working on hiding and staying out of sight. I pull up to the gate and see Mike sprinting across the lawn, and immediately acted like this was the wrong gate and that I needed to go to the back gate to get in. Ellen says, "didn't you live here for a year? Are you dumb?" I just went with it and acted dumb. We finally get through the gate and parked, walk up to the front porch. Ellen isn't paying attention at the decorations and is probably thinking about what she could be doing with her friends right now.
Then she sees the nice table on the front porch with a few pictures of us from the early days and the cute flowers that Mike's wife all put together. While she's perusing the decorations, I get down on one knee. She turns around to look at what I'm doing, laughs out loud, and asks, "What are you doing?!" I say, "You're the best thing that's ever happened to me. We've had some great times together and I want to continue with that for the rest of my life. Will you marry me?"
Once everything settled down, we went upstairs to actually hang out with Mike, his wife, and his new baby. All of this was to stall while both of our families gathered at Sushi Zushi in Uptown, which was the location of our first date. I figured that our families love food and this would be a good place for the second part of the proposal and would involve our closest family and friends. There were a few snafus with this, namely my family operating on Asian time, but we properly stalled with some Starbucks coffee. I take her toward Sushi Zushi on the way back from Starbucks (which is definitely not on the way back) so she continued to think I was lost and dumb. I open the door to the restaurant and she gives me a funny look. I tell her, "just go in and go to the back and no more questions." Lucky me, I successfully surprised her twice.